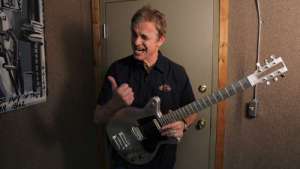 Electrical Guitar Company was born out of total admiration of the aluminum instrument world. For those who have never had the chance to play an aluminum based instrument, very few ever go back. You are capable of getting some of the most beautiful tones, but on the same token, one can get some of the harshest sounds ever.
The Electrical Standard is the next generation of aluminum instruments. By combining a hollow T6061 body with a billet T6061 neck, one can get all the lush resonance of the hollow aluminum body and still retain the response and growl of a neck through design. The Standards humbuckers are mounted directly to the neck offering even more clarity and response. The Standard also comes equipped with coil splits for each pickup via push/pull pots, enabling one to get a single coil and humbucker all in one package. This instrument is quite literally the best of both worlds.
The Electrical Series One and Series Two are wood and aluminum hybrids. The neck assemblies are completely isolated from the body, allowing the neck to ring out as much as possible without being dampened by the wood. Its single coil pickups and everything involving the strings, are mounted directly to the neck. The series One and Two are very viable partners to the Standard, allowing one to get as close as possible to the all aluminum sound, but keeping with a more traditional look and feel of wood.
All Electrical pickups are hand wound and feature Alnico 5 magnets and steel base plates. This combination of Alnico and steel adds more clarity and high end than could be had with a brass based pickup. For exact specs on each model please feel free to email me.